Salesforce and JIRA Connector
Deliver exceptional customer support with improved coordination across teams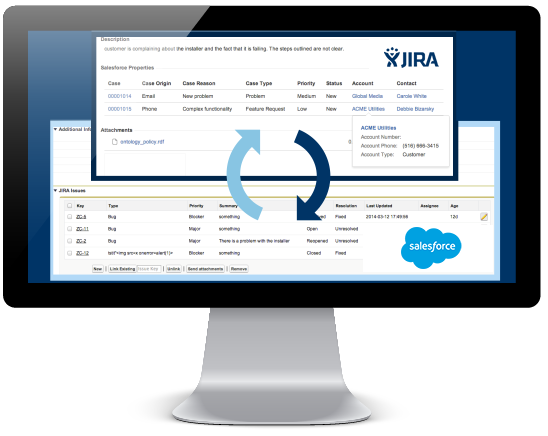 Improve Sales and Customer Service through
Integration and Cohesion of Sales,
Support and Product Teams
SALES TEAMS
Respond faster to product and technical needs of prospects
Improve your chances of closing deals
Provide product teams with valuable insights from the field
Manage accounts more effectively with a 360º view of each
PRODUCT TEAMS
Improve alignment of product priorities and release roadmap with sales and customer needs
Provide Sales and Customer Support teams with faster resolution to product and technical needs of customers and prospects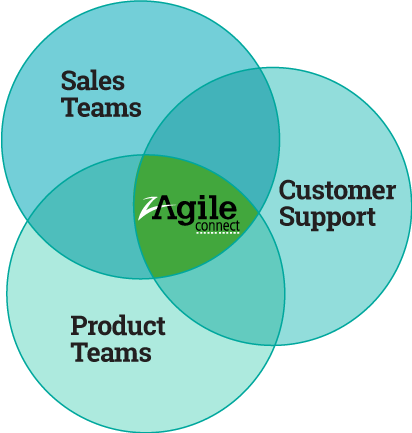 SUPPORT TEAMS
Respond faster to technical and product needs of customers
Save time in tracking customer escalations in product engineering
Improve customer satisfaction
Improve SLA compliance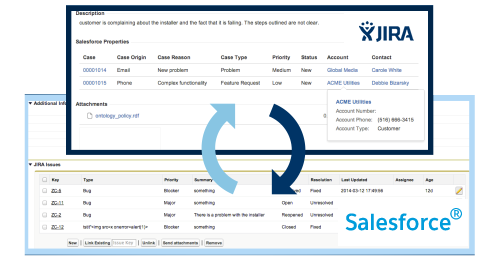 zAgileConnect allows for bidirectional exchange of information between Salesforce and JIRA.
It facilitates improved coordination between teams across the two applications so that both sides may efficiently collaborate, exchange information, and track various activities as they work on various customer-centric tasks.
The goal of this integration is to bridge the gap between Sales, Support and Engineering and allow them to work more efficiently towards resolving customer-related tasks.
The key focus of zAgileConnect is to allow support teams to work more efficiently with engineering.
As support calls are captured, help desk can create specific issues in JIRA for triage by engineering.  Relevant issues may be further elaborated, prioritized and scheduled for delivery either as product patches or formal releases.  Regardless of the resolution steps, help desk stays in sync throughout the resolution processes to ensure timely and accurate feedback to customers.  The integration reduces the need for support teams to switch back and forth across applications in an attempt to catch up to the resolution state of each case.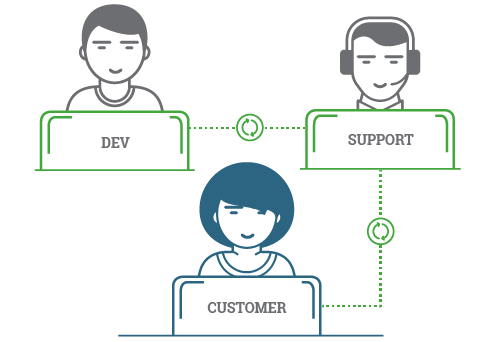 | | | | |
| --- | --- | --- | --- |
|    Collaboration | Exchange comments with JIRA | | |
| | Exchange attachments with JIRA | | |
| | Share case-related information with JIRA | | |
| | | | |
| --- | --- | --- | --- |
|    Tracking | Create JIRA issues from Salesforce | | |
| | View JIRA issue details in Salesforce | | |
| | Edit issues in Salesforce | | |
| | Transition issues through workflow states | | |
| | Track JIRA issue activity via Chatter | | |
| | Report metrics on cases with links to JIRA issues | | |
| | | | |
| --- | --- | --- | --- |
|    Search | Search relevant JIRA issues from Salesforce | | |
The zAgileConnect Advantage
By providing deep interoperability between Salesforce and JIRA, zAgileConnect improves the productivity of Support Teams as it relates to their customer-centric activities, helping them improve SLA compliance and customer satisfaction. Its focus on support-centric use cases is key to ensuring that Support teams are efficient in tracking and resolving customer cases thru the escalation lifecycle. This focus also distinguishes zAgileConnect from other similar solutions which merely copy data between the applications and fail to target any business problem or serve any constituent with respect to their functional capabilities.
Through seamless integration with and automation of internal business processes, zAgileConnect users are able to achieve significant measurable time savings and improvement in efficiency in turning around customer-reported cases and reducing time to case resolution.
Are you ready to get your support staff, developers and sales on the same page to support your customer needs? 

Seamless Thread for Issues
"We have been using the zAgile connector for several months now and its been really useful for ensuring we have an integrated flow from Salesforce to JIRA and from our support team to our dev team. It also enables key dashboard data used for managing our teams. Its been easy to install and configure and the support has been great."
CARIN LOCKHART, PROGRAM MANAGEMENT CONSULTANT, PRYSM